Part way down eastern section of Back Lane, looking towards Houghton Hill. The buildings in the centre at the top of the hill, demolished around 1970, were variously called 'The Grange' , 'Mulberry House', and 'The Magpies'. On the left is a shop, No. 3, which has been identified as Swandell's by the late Mrs Ann Mayes.
Looking down the eastern end of Back Lane from The Green, in the latter 1980s. In the centre distance is the gable end of one of the maisonettes in Ilex Close which replaced the buildings noted in the previous photograph.

A close up of the house known as Mulberry House, shown in preceding photograph but one. One of the children has been identified as the father of Primrose Goby (nee Johnson). The picture appears to date from the 1920s.

Looking down Houghton Hill from Back Lane, with Mulberry House on the left, and a pony and trap ascending the hill. Date probably in the 1930s.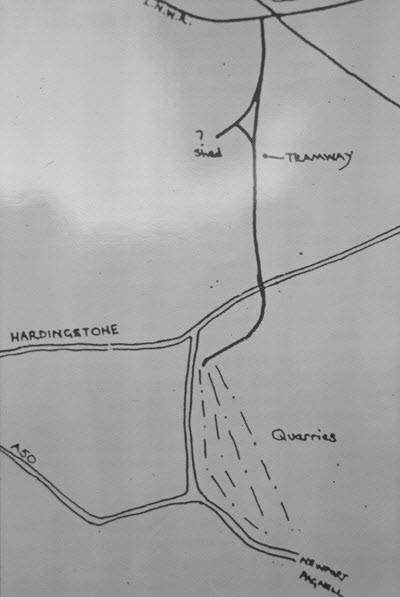 A hand drawn sketch of the tramline that served the quarries that used to lie to the east of The Warren. The tramway can be seen going north, crossing Ford Lane at a point beyond the view seen in the previous photograph, to sidings alongside the LNWR line in the Nunn Mills area.
Hilltop House at the north-eastern corner of back lane opposite Ilex Close, taken in the late 1980s.

The west end of Back Lane looking west towards High Street, probably taken around 1970. In the distance are the semi-detached houses opposite the old school which date from the 1930s. The terrace on the right was demolished soon after the photgraph was taken to make way for a couple of bungalows.

A view of Swiss Cottage looking east at the start of Back Lane. On the right is the stone and brick retaining wall on the boundary of The Hermitage grounds. The higher level of soil behind the wall demonstrates that at some point the hillside was excavated to construct the road. The 'road narrows' road sign is positioned at the start of The Portway (Port Lane), which ran down to the wharf on the river Nene at Nunn Mills.